Three Principals Added to Live Action Adaptation of Period Action Manga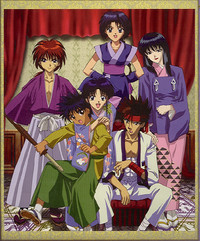 Jump Square has announced the actors cast for brawling ex-rebel Sanosuke Sagara, doctor Megumi Takani, and orphan son of a samurai Yahiko Myōjin in live action adaptation of Nobuhiro Watsuki's manga Rurouni Kenshin: Meiji Swordsman Romantic Story.
Via Anime News Network and Manga News
Yuu Aoi (Hana and Alice, Honey and Clover) will play Megumi, which Munetaka Aoki (The Last Message Umizaru, live-action The Girl Who Leapt Through Time) is Sanosuke and 11-year-old Taketo Tanaka is Yahiko.
Takeru Satoh (Kamen Rider Den-O, Rookies, Beck, Ryōmaden) was previously cast as political assassin turned non-lethal protector Himura Kenshin, while Emi Takei is the sword instructor female lead Kaoru Kamiya.