What title from this list is next to be animated?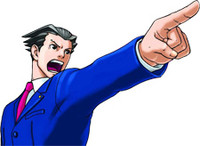 Dengeki Online has announced the results of their 2011 survey of what games their readers want to see adapted into an anime. This poll was also held in 2009 with Persona 4 topping the list and currently airing The [email protected] taking 5th. Without further ado, here are this year's results:
Rank
Rank
(2009)
Title
1
2
Gyakuten Saiban Series (Ace Attorney Series)
2
Little Busters
3
4
Kingdom Hearts Series
4
Puyo Puyo Series
5
9
Persona 3
6
God Eater
7
Tales of Graces
8
8
BlazBlue Series

9
3
Ookami
10
Chrono Trigger
(Survey dates: 7/28-8/10 2011)
Taking the top spot is the now being made into a live action movie, Gyakuten Saiban series, better known as Ace Attorney outside Japan. Second place goes to one of the few Visual Art's/Key games not yet animated, Little Busters.
Appearing outside the ranking but apparently worthy of a mention are a lot of recent games such as Solatorobo: Red the Hunter (Solatorobo -And then to CODA-) and the strip action game AKIBA'STRIP which topped the Media Create chart back in May.
So is your favorite game on there? What's missing?
Source: Dengeki Online via Yaraon!
Image ©Capcom