Designer Takeshi Wakabayashi talks balancing modern fashion with Japanese tradition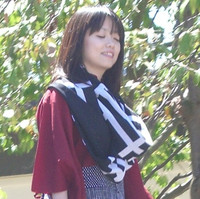 It seems like NEW PEOPLE had to beg a bit to get fashion designer Takeshi Wakabayashi out of his shell. "I sent a love letter to him, seriously," said Seiji Horibuchi, the founder (of NEW PEOPLE as well as Viz Media), but Wakabayashi was not interested in having any of his SOU・SOU brand stores in the United States. Yet somehow, there it is on the second floor, right next to BABY, The Stars Shine Bright—persistence paid off. But what's SOU・SOU? Wakabayashi explained:
"As you know, there are a lot of wonderful traditions in Japan, but unfortunately among the younger generations those traditions are weakening and dying out. So one of the things we're trying to do is create products that fit with modern lives in Japan today, but use old techniques and designs. We think that by doing so we're helping to preserve tradition in Japan."
By focusing on affordable every-day use items, Wakabayashi hopes to create a gateway into more high end traditional items, too.
Frederik L. Schodt interpreting Takeshi Wakabayashi of SOU・SOU
Interspersed with what happened at the invite-only lecture he gave Saturday afternoon, I'll include some photos from the fashion show that happened earlier that morning. It featured a range of local figures wearing all SOU・SOU, from an elementary school principal, to the director of the Asian Art Museum, and even the Consul General of Japan.
Wakabayashi introduced one of their most representative products, jika-tabi:
"These jika-tabi were created about 100 years ago during the Taisho era in Japan. In that 100 years, the essential design has changed almost not at all. The main hallmark of jika-tabi is that the toe is split. The split-toe design gives you a better grip on the ground."
Here he gave the example of holding a parallel bar with your whole hand as one vs. grasping it between your thumb and fingers.
"They also have thin soles, so it's almost like walking barefoot. Carpenters and also people who have to work in high areas are wearing this shoes […] so you have a better sense of what your foot is on. When you need to put a certain amount of power or force into your stance, [then wear these jika-tabi.]
"[…] So for the last one hundred years in Japan, they've been wearing them in labor environments and festivals, but they didn't real have a fashionable image in Japan, since they are construction worker clothes. […] it might be possible to make it a little more pop or fashionable by using new textiles and new ways to open and close them."
He displayed some slides showing how they are made, including people working on sewing machines, polishing, and adding the rubber sole by hand, and how the shoes are then baked to dry out the rubber.
Next Wakabayashi explained what is special about the Ise cotton they use. It's wound much more loosely than normal thread, and then starched. This way, while most garments grow stiffer with repeated washing, each wash of their fabric actually rinses more starch out, softening it. "You can't get these type of weaving machines anymore." Apparently not even Toyota could get their hands on one even though they used to manufacteur them, so they came to the factory to ask if they could get one back to put in their coporate museum. (It's there now.)
You can see the jika-tabi pretty well in this picture.
Finally, he introduced some classical wagara (Japanese patterns) side by side with the updated SOU・SOU versions he created. (These pictures are not the greatest, but I think you can at least get an impression.)
Wakabayashi provided a lot of good answers during Q&A.
His favorite season is fall. He commented, "I was born in fall."
When asked his favorite color, he appeared stumped, "It's the first time I've been asked that question…hmm. Seriously speaking, there is no color I dislike; I like all colors."
One guy asked whether they had considered making modern geta as well as jika-tabi:
"Actually, we do make modern geta. I didn't bring any examples of them because I didn't think they would have as much impact or be as interesting to people here as the jika-tabi. I should just mention that I wear geta in the spring and summer, but in fall and winter, I normally wear jika-tabi. […] If you're never worn them before, it'll seem strange, but once you try you'll never give them up."
On how he feels about seeing his designs worn overseas:
"Simply said, it just thrills me. And it's not just the fact that I'm thrilled by seeing the designs here overseas, but I think the craftsmen, like the older gentleman you saw earlier in the slide, they really get a kick out of seeing the designs overseas. We don't make anything half-way at SOU・SOU; we go all the way, and if you use our products I think you'll understand."
In response to a question about how in particular the environment of Kyoto influences his work:
"There are a lot of craftsmen busy making things. And I think frankly that their lifestyle is really cool—what they are doing is really cool. Basically, the craftsmen create items and they sell these items. And I think that what they're making are treasures. In Kyoto if you go to drink tea, to a temple, to eat soba, you'll see these wonderfully beautiful things."
He explained the origin of the name SOU・SOU:
"So, you know, sou sou is a very Japanese kind of expression. As you probably know, Japanese have a hard time saying no. And I'm not saying that in a weird sense, but it's just part of Japanese typical conversation—it's a way of recognizing what they said, that you understand. But after you've said it so many times, then you say, 'And here's what I think.' However, I find that when I speak to foreigners, they jump right to, 'No that's wrong,' and it took me a while to get used to that. But now I appreciate that part of American culture, and this may not be a hallmark of Japan as a whole, maybe more like Kyoto…[…] So that's why we called the company SOU・SOU. It's to incorporate Japaneseness. When you go to Japan and listen to what people are saying around you, you'll hear [it.]"
They revealed at the end of the fashion show was that everything was reversible.
Finally, what started as a question about male vs. female fashion ended up being a great manifesto for what the company is all about:
"First of all, you're probably aware, but Japanese fashion has been Westernized and there are very few people walking around wearing kimono. But I think in terms of the gender differentiation, [it's] not so important. Some people [are] walking around [wearing things] that might be more for women, and conversely women are wearing more masculine styles. [Some cute, some more restrained.]
"And I think you could say that all the worlds' brands are in Japan today, but what we don't have in Japan is Japanese style. What we do have is a very traditional Japanese clothes and style, developed a long, long time ago, but what we lack are things that are easy to wear and affordable. As far as I'm concerned in terms of fashion […] our environment in the towns and cities, the scenery is very important, and I think also our build, our faces, the way we look is very important in terms of fashion.
"In France, you have the Paris collection; in Italy, the Milan collection, in New York, you have the New York collection; Japan has the Tokyo collection. The thing that I always have an issue with is that they're always using foreign models. I don't know why, but they're always using foreign models instead of Japanese models. So even though they're trying to promote Japanese fashions with Japanese designs and brand, at the end, they always come out with a foreign model wearing it.
"I'd like to see some fashion centered around Japanese people—how they really look, some short, bald, fat […], so my goal is to create something that ordinary Japanese can wear and look cool. I think [if] even an old man could wear [this] and look cool, that would be something. I know people say fashion is driven by youth, but I don't see why it couldn't be driven by older people as well. And people, when they live longer, they go through a variety of experiences, and do a variety of work, and become more cool and sophisticated as they age.
"People don't need to read fashion magazines all the time. Just work hard every day and wear SOU・SOU outfits and walk around Kyoto—you'll be cool. So that's what we're aiming for in Kyoto when we're creating these fashions. I happen to think that the real Japanese clothing comes from Kyoto, from the town environment [we] live in and the era, the times. […] People come in and say all sorts of things, but I just go ahead with my own vision. And if SOU・SOU actually does well, if we're successful, then all the craftsmen will also be successful."
Check out SOU・SOU's U.S. home page!