Nicalis' enhanced port released with extras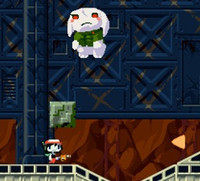 The enhanced Nicalis port of Daisuke "Pixel" Amaya's 2D freeware PC adventure, Cave Story—which hit Nintendo's WiiWare service in 2009—is now available for purchase on the Mac App Store with bonus content.
Included in this version: the option of playing with the updated graphics and soundtrack featured in the WiiWare release, a new "Wind Fortress" level designed by Amaya, a Boss Rush mode and more. There's also promise of additional content in the future, so this definitely seems like a computer version of Cave Story worth paying for.
Cave Story will run you $10 on the Mac App Store, and the announcement of a Steam release is hinted at for another date. Also, don't forget about NIS America's release of Cave Story 3D, which hits Nintendo 3DS this November.
Via Joystiq