Viral Sensation MoyMoy Palaboy and MMD Get Mainstream Media Attention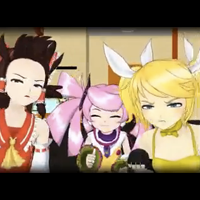 CBS.com recently discovered the MMD (MikuMikuDance) version of MoyMoy Palaboy's Backstreet Boys lip sync. While the article fails to credit both sources for the video's creation, it does highlight that it's pretty hilarious. The video originally surfaced on Nico Nico Douga on August 20, 2011.

MoyMoy Palaboy is a Filipino comic duo that initially gained popularity on YouTube in 2008. They have over 120 million upload views and nearly 200 thousand subscribers on Youtube. The Obeso brothers are currently contracted artists for the GMA Network.

Let us know what you think about this video, MikuMikuDance and MoyMoy Palaboy.

Source: CBS News
----------
Sean Russell is the webmaster for the podcasting network, Anime3000.com. This is a media network that provides fans with resources ranging from original video and audio programming, hundreds of useful links, an interactive community as well as contests and giveaways. A3K's goal is to provide new and current anime fans with an outlet to showcase their creative talents. This includes working with other bloggers and professionals to shine a spotlight on anime, manga and comics.