Sneak, shoot, and CQC your way through Mother Russia in 3D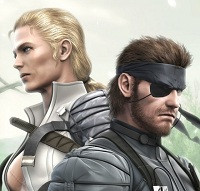 Most fans agree that Metal Gear Solid 3 is the crowning achievement of Hideo Kojima's stealth action series. Combining elements of stealth via camouflage, survival in a hostile environment, and a story filled with plot twists and betrayals, it still stands as one of the most memorable PS2 games ever made.
Nintendo's recent pre-TGS event showed off a bunch of new screens of the upcoming re-release, Metal Gear Solid: Snake Eater 3D, for the 3DS.
What interests me the most are the screens where it looks like you have to hold the 3DS steady to shoot accurately or maintain balance. While those of us who've played the game a bunch might welcome the new experience, I'm wondering (and hoping) if it's optional.
I, for one, am really excited to get to bring this game everywhere like a teddy bear. Anybody else planning on stealthily saving the world from nuclear annihilation, this time on the go?
via Gamespot