"Around half of all DS gamers are women," says Satoru Iwata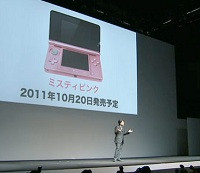 For some people, myself among them, one of the perks of the DS (and the GBA before it) was the selection of colors you could get them in. I'm sorry, black electronics look cool at home, but for portable devices they gather fingerprints and scratch easily. During the recent pre-TGS Nintendo conference, Satoru Iwata mentioned that a little over half of all DS gamers are women, with numbers about equal on the Wii--but more men own a 3DS.
We knew Nintendo would get around to releasing more colors for the 3DS sooner or later, and they've started with...
...Misty Pink! Ladies who like the lighter red (and men who aren't afraid of a simple color) will be able to get a Misty Pink 3DS on October 20th--in Japan.
Now before an army of Bronies show up to clear the shelves, sources don't mention any chance of this making it out here in the States, at least for now. Anybody here planning to import one?