Plenty of Repriced Rereleases Too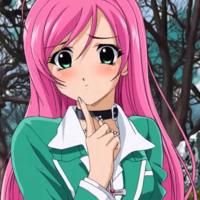 FUNimation has announced that it has scheduled the home video premieres of 2010 Anime Central licensing announcements Rosario+Vampire and Heaven's Lost Property for December release.
FUNimation Entertainment acquired home entertainment, digital and merchandise rights for the supernatural comedies Rosario + Vampire and Rosario + Vampire CAPU2 from studio GONZO.

The anime series are directed by Takayuki Inagaki (Desert Punk and To Heart) and based on the manga by Akihisa Ikeda, licensed by VIZ in North America.

About Rosario + Vampire


Rosario + Vampire follows the exploits of Tsukune, a teenager who finds himself rejected from the private high school of his choice. In fact, his grades are so bad he can only get into one school and it happens to be for monsters! There he meets a beautiful girl, Moka, who is a vampire with a dark secret hanging around her neck. Will Tsukune win the heart of the vampy beauty or does she just want his tasty human blood for lunch?
FUNimation acquired the home entertainment, broadcast, digital and merchandise rights to the romantic comedy Heaven's Lost Property from Kadokawa.

The 14-episode anime series is directed by Hisashi Saito (Bamboo Blade).

About Heaven's Lost Property


A beautiful, voluptuous angel robot (angelroid) falls to earth…into the lap of a lazy high school boy. When its revealed that he is her new master and that she will grant his every request…things get a little crazy
December 6
Afro - Samurai Resurrection: The Movie - Spike Version (Re-Price, $9.98)
Afro - Samurai Resurrection: The Movie - Director's Cut (Re-Price, $14.98)
Birdy the Mighty: Decode Complete Collection DVD Box(Eps #1-26) - $69.98
Devil May Cry Complete Collection DVD Boxed Set (S.A.V.E. Edition)
Devil May Cry Complete Collection Boxed Set (BLURAY) (S.A.V.E. Edition)
Dragon Ball - Season 5 (Re-Price, $34.98)
Dragonball Z Movie Pack #2 (Movies #6-9) DVD ($29.98)
Kamui Gaiden (Live action, DVD and Blu-Ray, $19.98)
Master of Martial Hearts Complete DVD Boxed Set (Eps #1-5) (Classic Collection) $24.98


December 13
Daytime Drink (Live action, re-price, $9.98)
Dragon Ball Z Level 1.2 (BLURAY) $34.98
Ikki Tousen (Battle Vixens) Complete Collection DVD Boxed Set (S.A.V.E. Edition)
Ip Man - The Legend is Born (live action, $24.98 DVD and $29.98 Blu-ray)


December 20
Big Tits Zombie (Live Action, DVD/Blu-ray Combo Box, $29.98)
Heaven's Lost Property (Sora no Otoshimono) Complete Collection DVD/BD Combo Box (Limited Edition) $69.98
Rosario+Vampire Complete Collection DVD Boxed Set (Eps #1-13) $64.98
Rosario+Vampire Capu2 (Season 2) Complete Collection DVD Boxed Set (Eps #14-26) $59.98
Initial D Fourth DVD Boxed Set (S.A.V.E. Edition)


December 27
City Under Siege (Live Action, DVD/Blu-ray combo, $29.98)
D.Gray-man Season #1 DVD Boxed Set (Eps #1-26) (S.A.V.E. Edition)
Eden of the East Complete Collection DVD/BD Combo Boxed Set (Eps #1-11) $49.98
Fairy Tail Collection #2 DVD/BD Combo Set (Eps #13-24) - $54.98
Guyver Complete Collection DVD Boxed Set (S.A.V.E. Edition)
Heroic Age Complete Collection DVD Boxed Set (Eps #1-26) (S.A.V.E. Edition)
Slayers TV Season 4 / 5 (Revolution & Evolution-R) DVD/BD Combo Boxed Set