Japanese blogs speculating about possible season 2 announcement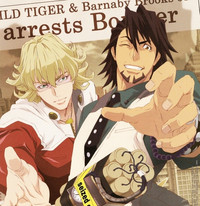 Update: via Otakomu, an event page appears to be up at the official site with more details. The first part of this new project is Tiger & Bunny Hero Awards 2011, an event planned by Sunrise and Bandai Visual, and put on by Bandai Namco Live Creative.
Planned cast participation:
Hiroaki Hirata (Tiger)
Masakazu Morita (Bunny)
Minako Kotobuki (Blue Rose)
Taiten Kusunoki (Rock Bison)
Mariya Ise (Dragon Kid)
Go Inoue (Sky High)
Nobuhiko Okamoto (Origami Cyclone)
Koji Yusa (Lunatic)
Artist participation:
UNISON SQUARE GARDEN (opening theme, "Orion o Nazoru")
Aobozu (ending theme, "Hoshi no Sumika")
NOVELS (second opening, "Missing Link")
Tamaki (second ending, "Mind Game")
Tickets cost 6,800 yen or around 88 US dollars.
Update: The Tiger & Bunny Twitter account just confirmed! There will be an event November 13th at a hall in Kanagawa to kick off "NEXT PROJECT," whatever it may be.
The official news site is not loading for us currently, so count this as perhaps unconfirmed at the moment, but it appears that Tiger & Bunny will be getting either a season 2 or some sort of spin-off project, as reported by Otakomu and Otanews:
Stay tuned for updates!