Hero Inspired Notable Gintama Antagonist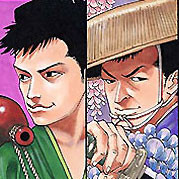 A new collection of Masahiro Makino's trilogy adaptation of Genzo Murakami's historical yakuza novel Jirocho Sangokush (Jirocho's Tales of Three Provinces) will feature theatrical poster art... reversible with One Piece creator Eiichiro Oda's illustrations of the cast. The movies from 1952, 1953, and 1954 chronicle the rise of 19th century, larger than life godfather Shimizu no Jirocho.
The collection will be released in Japan in October for 11000yen.
via MANTANWEB
Jirocho has an analog in One Piece's Shonen Jump compatriot Gintama in the character of Doromizu Jirocho (Doromizu "Muddy Water" is a play on Shimizu "Clear Water")