Hello Kitty themed CLUB KT now open in Tokyo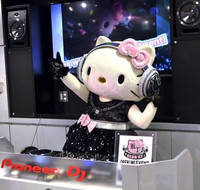 About a month ago, Crunchyroll News first reported on CLUB KT, a Hello Kitty themed store and event space (complete with DJ booth) set to open inside on the 8th floor of the world famous Shibuya 109 shopping complex. Well, the grand opening occurred last night in Tokyo and a host of very strange pictures and video of Hello Kitty's historic first DJ set are now emerging.
Overseen by the Sanrio corporation, CLUB KT has been designed as a "club type shopping experience" revolving around "characters, fashion, and music", CLUB KT sells apparel and goods featuring Hello Kitty, Twin Stars, My Melody and the like.
Last night's opening of CLUB KT proved to be world news and was covered in English by AFP. Their report notes, "On Thursday DJ Hello Kitty, wearing her trademark pink ribbon, took to the wheels in her own booth, replete with video screens and a mirror ball thrilling crowds in a country where cute and cool are virtual synonyms.
"We believe that our stores should not only sell goods but also offer dreams," said Kazuo Tohmatsu, spokesman for Sanrio, the Tokyo-based company behind the multi-million dollar Hello Kitty industry.
"Teenagers want to experience club culture for themselves, but they are not allowed to go into places where alcohol is served. Here they can experience club culture."
Because hey, who needs booze when you've got DJ HELLO KITTY? Six minutes of surprisingly competent disco fury encoded below...
While a full set list has not been released to the public, evidence indicates that DJ Hello Kitty spun tracks by Lady Gaga, The Black Eyed Peas, and Mariah Carey (what, no Party Rock?).