Epic medieval warfare and bittersweet romance in theatrical Berserk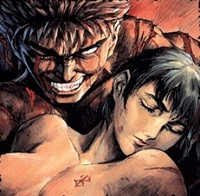 A pair of trailers have shown up for the upcoming Berserk: Golden Age I - Egg of the King movie--and the 36th volume of the manga. Original author Kentaro Miura is known for his epic battle sequences, his love of iDolmaster and procrastination, and his offbeat sense of humor, which gets to shine in this pair of TV spots.
So do we have any Berserk fans here? From what they've shown, they're going pretty far in this first movie... so what does that leave for the second movie? Two and a half hours of just the Eclipse? Let's hope not.