Game Has Free to Play and Paid Versions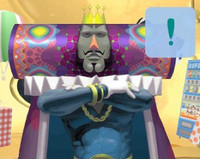 Bandai Namco are following up their Katamari Damacy iOS port with a new freemium title for the platform. Katamari Amore, launching on September 29th, has a free time attack mode, and for $3.99 has a full version with 24 levels, with 6 new ones, including a Pac-Man homage, as well as Story, Exact Size Challenge and Eternal Mode.
Similar to the original, various control methods are supported: Accelerometer or Virtual Pad controls, the latter including single or double virtual pad options. Additional content packs with past and future stages are in development, set to release at a later date.