Also, Information on "Talking Dead" After Show Live Talk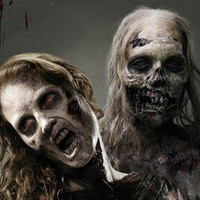 It's only two weekly until Walking Dead kicks off its 13 episode second season with a 90 minute hitting on October 16th. Check out a peek at the zombie mayhem below.
Speaking of Walking Dead, Entertainment Weekly reports AMC announced that it will air a live show, dubbed Talking Dead, immediately after episodes of The Walking Dead. The half-hour shows will be hosted by Chris Hardwick and will premiere immediately following the encore of The Walking Dead on Oct. 16, when the new season begins.
Hardwick will talk to fans, actors, producers and "TV enthusiasts," and recap the most recentDead episode. "This half-hour after-show gives fans the opportunity to nerd out about the story in a very public forum: what they like, what they don't like, or what questions they may have," Hardwick said in a statement. "Additionally, it will better inform viewers on making intelligent decisions when faced with the zombie apocalypse, which will probably happen sooner or later."