Brings a whole new meaning to "we will fight in the shade"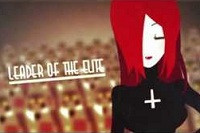 Skullgirls is one of those properties that had to win me over at first. It looked like a pandering excuse for shameless fanservice, riding the current resurgence of fighting games brought about by Street Fighter IV. But everything about its trailers, from its stylish indie-comic style art to its detailed animation to the sheer level of polish and care shown for the game's combat system, has made me more and more interested.
The latest character to be introduced is Parasoul, princess of the Canopy Kingdom that the game is set in. She commands their military's elite and uses a vicious living parasol as a weapon--and some of her men as very willing shields. Can't say I blame them.
Skullgirls is still set for an early 2012 release, and with the developers' "gameplay first" mentality, it means we should get a solid product right out of the gate. Anyone else looking forward to this game as much as I am?
via Shoryuken