"Mahou Sensei Negima: Anime Final" premiered in theaters in August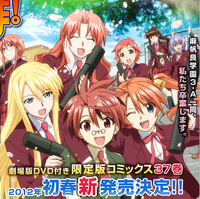 Having already announced the inclusion of a DVD of the movie Mahou Sensei Negima: Anime Final with a volume of the manga, Kodansha has now given some more information about the release. The DVD of the movie will be included with the limited edition of volume 37 of the manga, set to be released on February 17th in Japan with a price tag of 4980 yen (~$65).
The site also teases a further future announcement of an "astonishing project" that is in progress. One wonders what else there could be beside the inclusion of the scenes that were believed to be cut out of the theatrical version.
Mahou Sensei Negima: Anime Final premiered in theaters in Japan on August 27th.
Source: Negima Official Site
Source and analysis via Temple Knights
Image ©Akamatsu Ken, Kodansha / Shin Negima-bu