Production I.G. x CLAMP project gets its date on the big screen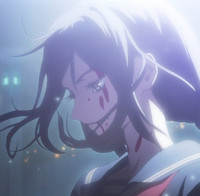 At the end of today's final TV episode of Blood-C, it was announced that the Blood-C movie will premiere June 2nd, 2012. The movie had been announced with the TV series as part of the Blood-C project, but had only been dated "To Premiere in 2012."
Blood-C is a collaboration between Production I.G., who created the Blood franchise, and manga artist group CLAMP, who are providing the story and character designs. The 12 episode TV series premiered in July.
via 0takomu
Image ©Production I.G., Clamp / Project Blood-C Movie