1st episode premieres today, Mon/3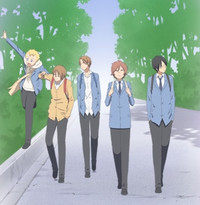 Crunchyroll has announced the simulcast of You and Me ("Kimi to Boku")! The first episode starts TODAY, Monday at 10:00 am PDT.
Here's the official synopsis:
"Friends since kindergarten and seemingly like blood brothers, You and Me follows the lives of Yuta and Yuki Asaba, Shun Matsuokan and Kaname Tsukahara; as well as transfer student Chizuru Tachibana who joins the circle of friends. Together we will watch as they laugh, dance, cry and share the memories of growing up together in everyday life."


Please note: You and Me ("Kimi to Boku") will be available to Crunchyroll premium members worldwide except Asia. For free members, it will be available in the following territories: US, Canada, United Kingdom, Ireland, Australia, New Zealand, South Africa, Denmark, Finland, Iceland, the Netherlands, Norway and Sweden.