Are you really OK with Zoro's guidance on the road?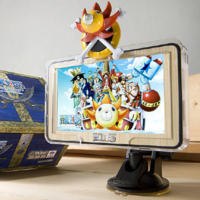 Following the success of the first version, Dinos, one of Japan's largest television and catalog shopping companies, has released the second version of ONE PIECE car navigation "ONE PIECE CarNavi 3D2Y" on October 1. The second version features the guidance voices of Monkey D. Luffy, Nami, and Roronoa Zoro instead of Chopper in the first. Zoro is well-known as a character who has no sense of direction in the series. All of the wall paper illustrations are also changed.
The 20,000 units-limited first version, which was released on April this year, was sold out at a completely unexpected speed. So Dinos produced double this time, 40,000 units. The retail price is same 39,800 yen (US$516.81).
New wallpaper illustrations
Source: Press Release
© Dinos Inc.
© Eiichiro Oda/Shueisha/Toei Animation/Fuji TV