Parody prize brings attention to an unlikely use for food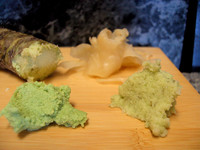 The Japan Times (via Kyodo) reports that a group of Japanese scientists were awarded the Ig Nobel Prize in Chemistry last week for their work in developing the technology behind the wasabi smoke alarm. Instead of making a noise, the patented wasabi smoke alarm emits the odor of Japanese horseradish, wasabi, waking up those who would otherwise be unable to hear an alarm with the eventually unbearable scent.
The Ig Nobel blog links to this year old report from the BBC about the alarm:
According to the Ig Nobel winners page, the prize was awarded "for determining the ideal density of airborne wasabi (pungent horseradish) to awaken sleeping people in case of a fire or other emergency, and for applying this knowledge to invent the wasabi alarm."
Here is the Euronews report on this year's ceremony featuring part of the acceptance speech by one of the scientists, Makoto Imai:
The Ig Nobels are a parody of the Noble Prize that are awarded annually by the Annals of Improbable Research for scientific research that is considered unusual, imaginative, or sometimes trivial, or as a mockery of events in science that have made headlines.
Read more about the ceremony and the invention at the links below.
Sources: Ig Nobel Official Website, The Japan Times Online, Scientific American Blogs
Image of wasabi from rdpeyton's flickr.