Soredemo Machi wa Mawatteiru Coming to DVD in January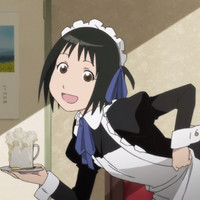 Sentai Filmworks has announced the license of And Yet The Town Moves, also known as Soredemo Machi wa Mawatteiru. Based on the hit manga by Masakaza Ishiguro, the story of trouble-prone Maid/Waitress Hotori is familiar ground for director Akiyuki Shinbo, whose previous body of work includes handling the Hidamari Sketch, Negima and Mariaholic franchises.
Script supervision is by genre stalwart Katsuhiko Takayama, whose resume includes such familiar titles as Love Hina, Fullmetal Alchemist, Godannar and Sorcerer Hunters, while character design for the 12-episode series is being handled by chief animation director Hiroki Yamamura (Mahoromatic).
Hotori Arashiyama loves mysteries, but there's one she just can't solve: Why does the solution to one problem inevitably seem to lead to another? For instance, how when Hotori has to start working after school at the Seaside Maid Café to pay off a debt and her friend Toshiko fortunately knows exactly how a Maid Café should be run. Which is fortunate since Hotori has no clue. Except that, unfortunately, Toshiko has no interest in working at the café, UNTIL she discovers that Hotori's childhood friend Hiroyuki is a regular. Which SEEMS fortunate. Except that Hotori doesn't know that, while Toshiko likes Hiroyuki, Hiroyuki secretly likes Hotori, while Hotori secretly has a crush on… No, no more spoilers! But if that's not enough drama, there's work, angst with a certain math teacher, table tennis between her classmates, her younger brother versus the school's bad girl… And yet, even though everything seems like it's going to crash at any moment, somehow Hotori's life keeps going hilariously forward in And Yet the Town Movies!
Digital distribution of And Yet the Town Movies will begin through many outlets this winter, and the series will find its way to home video next January with the release of all 12 episodes on subtitled DVD.