Cult Manga Goes High Fashion and Cheap Plastic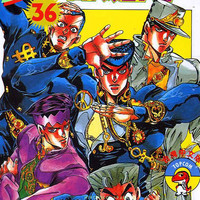 Jojo's Bizarre Adventure manga artist Hirohiko Araki's exhibit at Tokyo's Shinjuku Gucci, commemorating the 90th anniversary of founding the brand Gucci being, opened on September 17th.
The event features reprints of Jojo's spinoff character Rohan Kishibe's adventures with his grandmother's keepsake handbag, original illustrations of Gucci's fall/winter lines, as well as an installation of life size figures.
Rohan Kishibe has starred in Jojo's short story spin-offs "Thus spoke Kishibe Rohan," "Under Execution,Under Jailbreak," and, most notably, "Rohan at the Louvre" - tied to exhibit at the French art museum.
Previously we had a look at the window displays. Now, via Gigazine, take a look inside.
Begun in 1987, Jojo's launched with "Phantom Blood," (volumes 1-5) a battle between Victorian gentleman martial artist Jonathan Joestar (JoJo) and his scheming adopted brother turned vampire, Dio Brand. It followed with the Jazz age, vampire punching adventures of Jonathan's grandson, Joseph Joestar in "Battle Tendency" (volumes 5-12). Joseph's sharp minded, half Japanese grandson Jotaro Kujo acquired super powers hunted Dio across the world in "Stardust Crusader" (volumes 12-28), released in North America by Viz. Joseph's illegitimate son Josuke Higashikata solved mysteries in horror plagued town of Morioh in "Diamond is Unbreakable" (volumes 29-47). The series jumped to Dio's bloodline with his son, Giorno Giovana's Italian mafia adventures "Vento Aureo" (volumes 47 to 63). Then, it returned to the Joestars to chronicle Jotaro's daughter Jolyne Kujo's false conviction and imprisonment in "Stone Ocean" (renumbered volumes 1-17).
Using key chain figures, Morio, of "Diamond is Unbreakable" and the new, currently running eigth incarnation "JojoLion" was created in Banpresto's Jojorama (Jojo's diarama) for display at The 25 Prize Fair.