First episode airs Saturday, October 8 at 9:30 am PST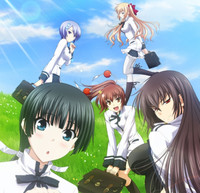 Crunchyroll has announced that they will begin simulcasting the comedy action series MAJIKOI OH! SAMURAI GIRLS as part of their Fall lineup of streaming anime. The first episode airs tomorrow, Saturday, October 8 at 9:30 am PST.
MAJIKOI OH! SAMURAI GIRLS is spawned from a series of spicy visual novels created by Minato Soft that date back to 2009. The new anime adaption is being directed by Keitaro Motonaga, an industry veteran with titles like Princess Princess, Getbackers, and even Patlabor on his resume. Voice actress Yuu Asakawa (co-host of the Otaku-Verse Zero webshow) has signed on to play tough girl Momoyo Kawakami.
Here's the offical synopsis:
"It's one thing to honor your ancestors and keep old traditions alive, but there IS such a thing as taking it to a ridiculous extreme. In Kawakami City, having a samurai ancestor and enormous 'fighting spirit' isn't just an interesting fact, it's a huge part of how you end up being ranked on the social totem pole. That, in turn, rolls over into the school curriculum. Fortunately, that's something the local kids like Yamato Naoe have learned to deal with by forming into small 'bands,' (that's the samurai type, NOT music.)
However, while the delicate sexual balance of Yamato's group seemed fine when there were three girls and four boys, the sudden addition of two MORE girls starts to send everything spinning out of control! Seven's a band of samurai and nine is a riot as boys, girls and naked blades all come together in MAJIKOI OH! SAMURAI GIRLS!"
MAJIKOI OH! SAMURAI GIRLS will be available in the following territories: United States and Canada.