Macross Frontier and Steins;Gate also honored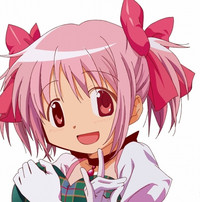 The newly established Newtype x Machi ★ Asobi! The Moving Pictures Festival announced the fan-selected winners of its first Anime Awards last night. Admirers of a certain magical girl show will be thrilled to see their wish granted, because Puella Magi Madoka Magica took a dominant share of the honors.
For example: Kyubey was Best Mascot. The mysterious Homura Akemi was Favorite Female Character, while her voice Chiwa Saito got Best Supporting Actress. Aoi Yuki, the titular Madoka, was Best Actress. ClariS' opening song "Connect" was Favorite Theme.
Puella Magi Madoka Magica also took honors for Best Anime Series, Director, Screenplay, Character, Design, Photography, Artistic Direction, Color Design, Effects and even Best Commercial!
Steins;Gate's mad scientist Rintaro Okabe was Best Male Character.
Macross Frontier: Sayonara no Tsubasa was Best Theatrical Film
Keiji Fujiwara (who played "Jake Martinez" in Tiger & Bunny) was Best Supporting Actor while Mamoru Miyano (who played "Rintaro Okabe" in Steins;Gate) took Best Actor.
So what do you guys think? Agree or disagree with the results?