Art from five major Jump publications' manga on display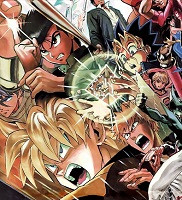 Y'know what I love more than just about anything else in anime and manga? Jump. Specifically Weekly Shounen Jump, the super-cheap weekly mag that is less a collection of serialized comics run under strict editorial control and intelligent brand management, but is more a secret to eternal youth with how it can make even the most jaded comics reader feel like a kid again, cheering their heroes on and getting hilariously caught up in cliffhangers.
In an announcement today that made me incredibly sad that I don't live in Japan, an exhibition featuring five of publishing giant Shueisha's Jump manga magazines (Weekly Shounen Jump, V Jump, Jump SQ, Jump SQ.19, and Saikyo Jump) with art from series in all five publications. Quite a few of the anime adaptations of these series are right here on Crunchyroll, from Weekly Shounen Jump's Naruto, Bleach, Gintama, and Hunter X Hunter (among many others) to Jump SQ's Blue Exorcist and Tegami Bachi.
While the event's site hasn't specifically announced what art will be shown, the exhibit will be making stops at Shizuoka, Osaka, Takamatsu, Kokura, Hiroshima, Nagoya, Sapporo, Niigata, and Sendai--check it out if you're lucky enough to be in the area!
Do you have any favorite Jump artists? If you could make an exhibition of manga or anime art, which artists or series would you choose to highlight?
via Shueisha