Casting Previously Revealed Plans for Tetsuya Nakashima Movie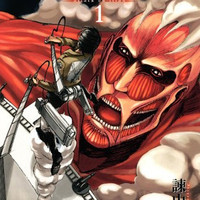 Last month, a notice to cast extras for a panicked crowd scene accidentally revealed that Tetsuya Nakashima, who directed the nearly-Oscar-nominated adaptation of Confessions, and the cult favorite adaptation of Kamikaze Girls, would be directing an adaptation of Hajime Isayama's award-winning manga Shingeki no Kyojin, or "Giant's March." Now Kodansha has confirmed that the unique manga will be adapted for a movie, scheduled for Fall 2013. Other details were not revealed.
And, if you were wondering what qualifies the manga about human civilization under the onslaught of carnivorous titans for being called unique...
Via MANTANWEB