Treats inspired by game & anime go on sale 10/22 in Tokyo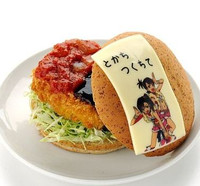 Namjatown is a family-oriented attraction and event space located inside of the massive Sunshine City mall in Tokyo's Ikebukuro district. Owned and operated by the Bandai Namco group, the facility has held Prince of Tennis and Squid Girl events will now soon be host to an "[email protected] in Namco Namjatown" event that will run from 10/22 to 11/30.
As part of the festivities (which will include limited edition goods and displays), a variety of special [email protected] food items will be on the menu as well. Not the least of which is the [email protected] burger (below)
The "Tokachite Burger" set, which includes a piece of cheese emblazoned with a picture of Ami and Mami Futami, comes with soft drink and fries for 880 yen ($11.00)
For desert, here's the "Haruka Handmade Cookie Parfait" (650 yen or $8.50).
Or try the "Makoto Kikuchi Sparkling Ice Cream" for 550 yen ($7.00).
Then again, perhaps you'd prefer the 'Usa-chan Strawberry Ice Cream" shaped in the image of the rabbit stuffed toy that Iori always carries with her.
Still got room for more? Indulge the final vestiges of your sweet tooth with the "Ritsuko 765 Pro. Ice Cream", complete with a facsimile of the female producer's glasses!
Funny, because I always think of idols worrying about their calories, and shunning tempting plates of junk food. Idol fans, however, not so much...