5 Centimeters written by Makoto Shinkai, due out June 2012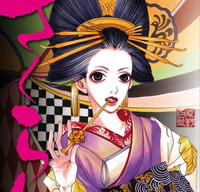 Vertical Inc.'s lineup continues to grow. The publisher had a couple of new announcements at its New York Anime Fest panel, including Moyoco Anno's Sakuran, and the Makoto Shinkai-penned 5 Centimeters Per Second manga.
In addition to writing by Shinkai—director of the 2007 anime—5 Centimeters Per Second features art by Yukiko Seike. It will be released in June 2012 as a single omnibus for $18.95.
As for Sakuran, Moyoco Anno's manga (pictured to the right) is due out in July 2012 for $14.95.
Vertical's final announcement was Osamu Tezuka's Message to Adolf, which was previously published in North America by Viz Media as Adolf. This two-volume release will be hardcover, and will feature a new translation. It's due out in August 2012, and will be priced at $26.95.