Nearly 200 Compete in "Voice Actor Battle" Gimmick To Determine Cast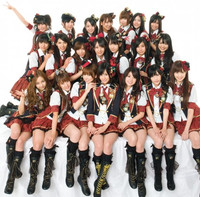 The word is just coming in that the all-singing, all-dancing idol sensation known as AKB48 is due to get their own anime series. A blurry pic of a newspaper announcement is all we have for now, but here are the facts. The series is set to air next spring and a "voice actor battle" (probably destined to play out on a wacky TV special or something) will provide the publicity gimmick.
Nearly 200 group members from the assorted AKB48/SKE48/NMB48 families will begin auditions next month. The contestants will be narrowed down to 30 by the end of the year. A final audition will then be held to determine which 9 girls will get to sing the theme song.
Confirmed facts:
-It's an original work.
-The first 30 will be announced in November via a special website
-Final auditions are planned to be held in front of the public
-Auditions will not depend on any previous general elections or popularity, but will be a fair audition with all members having a chance.
-There's a chance that this will be adapted into a manga as well
The title and channel that the show will air on are still a well-kept secret! More info as it arrives (hopefully not via any more blurry newspaper pix, sometimes that's all we have)...
UPDATE: Shoji Kawamori (Macross, Escaflowne, Aquarion) has been confirmed by numerous Japnese sources to be the show's Chief Director. Wow. I hope they are paying him in gold bricks...
Anyone excited? Anyone going to protest this for being made? Are the makers of [email protected] quaking in their boots?
Personally, I'm not a massive AKB48 fan, but the video for their song Beginner is pretty cool...