Virtual idol to do battle in fantasy-inspired card-based combat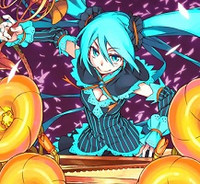 I am a well-rounded nerd. I've dabbled in almost every bit of nerdery imaginable, but one vice that was hardest to quit was customizable and trading card games. Now, I still love card-battle games, but they're such an insane money sink that it eventually just becomes impractical. Alteil looks to change that by making the entire game and library of cards free-to-play and browser-based--and they're getting help from special guest Hatsune Miku.
Going by its description, Alteil sounds like a cross between Magic: The Gathering, the now-defunct Epic Battles, and just a tiny dash of the World of WarCraft trading card game. Lead the way with Characters and their unique abilities and restrictions, send out Units to attack and defend, and use Grimoires as single-use spells to alter the course of battle.
Alteil has unveiled artwork for fifteen cards featuring vocaloid superstar Hatsune Miku, lending her talents to join players in battle. It's not known what these cards will do yet, but one thing is for certain--the art is gorgeous.
With art from the illustrators behind Duel Masters, the Code Geass manga, Tekken 5 and more, Alteil has already earned my interest with its smartly-designed system and beautiful card art. What about you? Anyone further persuaded to sign up thanks to the chance of getting Miku on-deck?