Wonder what this show could possibly be about...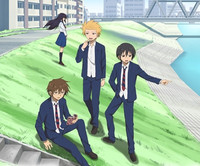 After a nearly thirteen day countdown, the official website for Square Enix's Gangan Online has announced that Yasunobu Yamauchi's Daily Lives of High School Boys (Danshi Koukousei no Nichijyou) gag manga will be getting a TV anime adaptation starting in January of 2012. The series will be animated by Sunrise and is directed by Shinji Takamatsu, the first director of the Gintama TV series.
The three main boys: Tadakuni, Hidenori and Yoshitake will be voiced by Miyu Irino, Tomokazu Sugita, and Ken'ichi Suzumura respectively. The opening and ending themes will be performed by Mix Speaker's, Inc and Jinkaku Radio respectively.
The special page for the anime adaptation on Gangan Online is streaming a short promotion video if you click on the link under the show title.
Source: Official Website via 0takomu
Image ©山内泰延/スクウェアエニックス・「男子高校生の日常」製作委員会