Magic Girl Gear Aplenty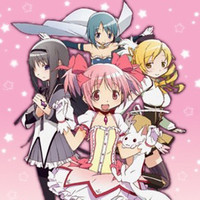 Asian media focused "virtual world" TinierMe has begun running a Puella Magi Madoka Magica collaboration campaign that gives fans a chance to purchase avatar items based on the popular magic girl anime. Prior collaborations have included Hatsune Miku, Durarara, and Black Butler.
"One of our goals is to promote anime around the world," said Masaru Ohnogi, CEO of TinierMe. "The release of Puella Magi Madoka Magica virtual items at TinierMe, even before the release of the English version of the anime series, will build both the world-wide Madoka Magica fan base and TinierMe's reputation in the international anime community."

Originally airing in Japan in the beginning of 2011, Puella Magi Madoka Magica is an original story developed into TV series by Gen Urobuchi of Nitro+ (Togainu no chi), directed by Akiyuki Shinbo (Goodbye Zetsubo Sensei, Bakemonogatari Arakawa under the Bridge) and produced by Aniplex's Atsuhiro Iwakami (the Garden of Sinners, Bake Monogatari Oreimo, and recent project Fate/Zero). Puella Magi Madoka Magica follows the story of a 14-year-old girl named Madoka Kaname. Madoka is offered the opportunity of ggaining magical powers if she agrees to make a contract with a strange little being named Kyubey, Kyubey will also grant madoka one wish, but in exchange she shall risk her life by accepting the responsibilities of fighting witches. Little does Madoka know what the real risks of making a contract has in-store for her. With the popularity of the series growing worldwide, Aniplex of America has recently announced plans of releasing the series to the US audience.