Evil Doers, Beware!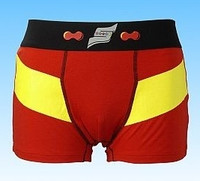 It's been said that Japanese superheroes look like a bunch of guys gallivanting in their underwear. Now, that notion gets painfully literal with a new selection of adult boxer briefs based on Ultraman, Kamen Rider, and the Super Sentai series
On October 24, Bandai will throw down the gauntlet to the forces of evil with a new line of hero-themed underwear priced at 1365 yen (US$17.78) per pair.
Debuting on TV in 1975, Go Ranger was the first of Toei's Super Sentai shows, which eventually spread like wildfire around the world in the guise of the Power Rangers series. But Go Ranger was the first, and in Japan still the most iconic, of the color-coded battle teams. So they get the underwear honors. Sorry, no Pink Ranger available yet...maybe for Valentine's Day?
Some gentlemen prefer Ultraman, which is why Bandai has hedged their bets with some Ultra briefs as well. From left: Ultraman Zero, Ultraman (the original 1966 version), and Ultra Seven.
Finally, Kamen Rider fans can also join the fray with soul-searing underwear of their own. From left: Kamen Rider Fourze, Kamen Rider Amazon, and Kamen Rider Decade.
It's not clear exactly what occasion is best suited to wearing these bold undergarments (usually, little kids in Japan bug their moms for stuff like this), but might we suggest running around the neighborhood engaging in acts of derring-do?