Yoshiyuki Tomino Project Said To Be Set 1000 Years in the Future of UC Timeline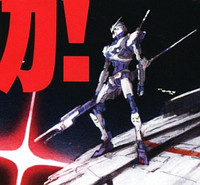 Early last September, it was announced that Mobile Suit Gundam creator Yoshiyuki Tomino was working on a new SF project called G Reko. Now, the Mechadamashii web site has turned up a new magazine image regarding this mystery proejct, which Mechadamashii claims is "the new Yoshiyuki Tomino anime set over a 1000 years in the UC timeline's future".
Here's a translation of the text that appears on the page itself, giving away lots of clues about G-Reko's staff and premise.
Bottom left:
Yoshida Kenichi
Animator, Illustrator. Entered Studio Ghibli in '90. Freelancer as of '99. Beginning with Turn A Gundam, worked on the genga production for multiple productions. Character designer for Eureka 7.
Bottom right:
"It begins here....?
Hearing Director Tomino's idea, his friend Yoshida Kenichi drew this illustration on his own. The structure is... a space elevator? Standing there is a human? Or is it...."
---------
IS IT GUNDAM?!??! JUST COME OUT AND TELL US! AND WHAT'S ON THE OTHER PAGE??? Ok, stay tuned to Crunchy News for more info on G Reko as it develops. In the meantime, we are doing the happy dance over a new Tomino project in the works...