One-night-only theatrical concert stream set for November 10 at 7:00pm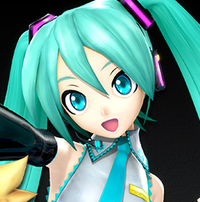 Japanese entertainment distributor Live Viewing Japan has scheduled a one-night-only event, featuring a simultaneous screening of the Hatsune Miku Live Party 2011 39's LIVE in SAPPORO concert in theaters across nine major U.S. cities.
The cities hosting the event include:
Baltimore, MD
Boston (Manchester), MA
Chicago, IL
Houston, TX
Los Angeles, CA
Orange, CA
New York, NY – Two locations
San Francisco/Bay Area, CA
Seattle, WA
The performance, originally organized by 5pb., took place in Japan in August. The theatrical simulcast will also screen in several other countries, including France (November 9), Thailand (October 30), and Brazil (November 5). Via the press release:
"We're very excited to present this unique Hatsune Miku experience for her U.S. fans," says Live Viewing Japan Exective Director Hiroki Kotani. "Miku has captivated a global audience with a mix of catchy pop music and captivating technology-inspired visuals. Her popularity has opened an entirely new range of possibilities to blend a cute pop idol persona with technology and computer-created graphics. We invite fans to visit the Live Viewing Japan web link for more information and for specific movie theater event locations. Don't miss this rare opportunity to see Hatsune Miku perform!"
The event kicks off on Thursday, November 10 at 7:00pm (local time). More information, including specific locations, is available at Live Viewing's Miku Party page.