Top Japanese Cosplayer Pays Tribute to Motoko Kusanagi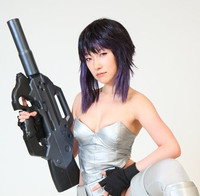 Omi K Gibson is one of the best known, and certainly most accomplished cosplayers currently active in Japan. Featured on Kotaku and renowned for her Metal Gear Solid creations, Omi K has now gone cyberpunk in a modeling tribute to Major Motoko Kusanagi from the Ghost in the Shell series.
Below is only a sampling of Omi K's Kusanagi cosplay. Be sure to visit her blog for the entire photo shoot.