Wobbling Pirate Ships Go On Sale in Japan This Month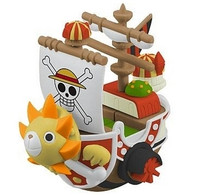 The days go by, seasons change, years pass, but one thing remains constant: the One Piece goods just keep on coming! Now, Japanese figure maker Megahouse is about to unleash detailed miniature versions of the famed pirate ships featured in this much-loved anime and manga set to be released this month.
This third collection in Megahouse's "One Piece Wobbling Pirate Ship Collection" series offers six new super-deformed ships at a price of 525 yen each (about US$7.00). Each comes with a clear stand that allows the ships to rise and fall as if sailing on the seven seas.
Thousand Sunny, second ship of the Straw Hat Pirates
Red Force, current ship of the Red Hair Pirates
Going Merry, first ship of the Straw Hat Pirates
The Ark Maxim
Big Top, Buggy's ship
Trafalgar Law's submarine
Megahouse's Mr. Takakura, in charge of the line's development, says of the collection, "When you mention a pirate ship, you think of something a man might like. But this super deformed collection will also appeal to women and children". Now how about you?