Penguins Come to Those Who Wait!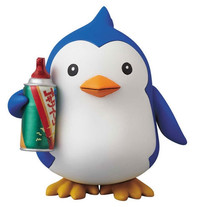 Though he storyboarded an episode of Soul Eater and one of Diebuster, as well as the openings of Nodame Cantabile and Aoi Hana, it was a long wait between Kunihiko Ikuhara's work on Revolutionary Girl Utena and his latest anime series Mawaru-Penguindrum. The lag on plastic incarnations of Penguindrum hasn't been quite so extended, but you'll still have to wait at least a few months for Medicom and Beach Queens' upcoming figures.
Medicom's Vinyl Collectible Doll will add penguins No.1, No.2 and No.3 in December for 1,800yen each.
in 2012, Wave's Beach Queens, 1/10 scale series of ladies in swim wear series will add a figure of Himari Takakura, a terminally ill girl revived by a spirit in a penguin shaped hat.
Via Tomopop