New Release of Horror Action to Feature English Dub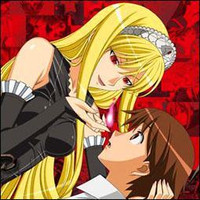 Sentai Filmworks has announced the English dub cast for the upcoming DVD collection of horror action Princess Resurrection. The series was previously released with only English subtitles and Japanese audio.
Title: PRINCESS RESURRECTION COMPLETE COLLECTION
Published by: Sentai Filmworks
Distributed by: Section23 Films
Run Time: 650 min.
Street Date: 1/17/2012
Format: DVD
Language: English & Japanese with English Subtitles
SRP: $69.98
SYNOPSIS: She's a hot Goth vixen with a love-jones for swords, chainsaws and mace balls. And it's a good thing she's handy at using them all because every zombie, vampire, mummy and demon spawn is gunning for her. But weapons aren't the only thing Princess Resurrection has going for her. She's got a team of ass-kicking darksiders right beside her-a pint-sized android maid, a half-werewolf hottie, a sexy high school vampire, a wicked-cute little sister and a young boy she brought back from the dead. Fighting evil was never this sexy. Or this much fun! All new dub featuring the voices of Shelley Calene-Black and Blake Shepard!
Directred by Steven Foster

Hime - Shelley Calene-Black
Hiro - Blake Shepard
Sawawa - Monica Rial
Flandre - Bree Welch
Liza - Luci Christian
Reiri - Emily Neves
Sherwood - Hilary Haag
Francesca - Stephanie Wittels

Master - Andy McAvin
Wildman - Samuel Roman
Poseidon - Rob Mungle
Zeppeli - Chris Patton
Hosei Sanagida - David Wald
Tomako - Serena Varghese
Ryu-Ryu - Leraldo Anzaldua