Sexy Vocaloid turns to a cute little paper doll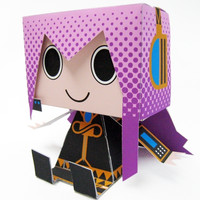 Following the success of Hatsune Miku, Lily, GUMI, and Rin & Len, a character goods and cosplay costumes company COSPA has announced its newest "Graphig" papercraft featuring Vocaloid character, "Graphig 058 Megurine Luka". Japanese retailers and online stores have started taking pre-orders for it. The Luka Graphig is scheduled to be released at the beginning of January 2012. The retail price is 630 yen (roughly US$8.30). Which one is your favorite Graphig Vocaloid? And who do you want see next?
"Graphig 058 Megurine Luka"
Graphig 01 "Hatsune Miku Nasos ver."
Graphig 013 "Lily from anim.o.v.e "
Graphig 014 "Megpoid"
Graphig 035 "Kagamine Rin"
Graphig 036 "Kagamine Len"
Source: Graphig official site
© COSPA
© Crypton Future Media
© Masami Yuki
© INTERNET

© AVEX MANAGEMENT