Over 1,000 Japanese cell phone voters yield favorite fall shows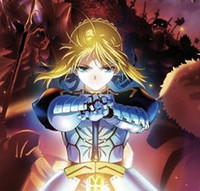 We're well into the fall anime season now, so it's about the right time to start forming opinions on what is worth watching, right? Recochoku.com users thought so, and 1,102 of them voted via cell phone on their favorite fall shows. Results below:
5. Persona 4
4. Kimi to Boku
3. Boku wa Tomodachi ga Sukunai
2. Working!! (aka Wagnaria!!)
1. Fate/zero
Well, what do you think—spot on, way off?