Marvel's wee weapons expert joins Frank West in new videos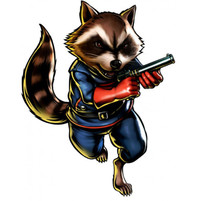 Capcom is showing off more of Ultimate Marvel vs. Capcom 3's new roster additions, starting with a look at Marvel's pint-sized yet nonetheless formidable Rocket Raccoon. Check out videos of both him and Frank West in action below!
It's appropriate that he starts off fighting Okami, but isn't that borderline dog fighting? Someone call the ASPCA!