Fans who sign up for their ISP service get a pop idol bundle of joy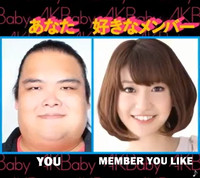 What would happen if you were to "make babies" with a member of pop supergroup AKB48? The new AKBaby promotion aims to answer this titillating question, allowing users to upload pics and see the… interesting results.
Here's how it might look for your average AKB48 fan. At least, that's what the image suggests, as you'll see the strapping lad on the lower left is labeled as YOU, and the idol next to him is the "member you like."
Once again... YOU! (below left)
Behold...your beautiful bambino!
To promote the service, one of the AKB girls asks if you want to make a baby… on the internet, of course.
Here's the catch. Want to make a baby with AKB48? You gotta sign up for the group's new ISP service. Do so, and you'll be the proud parent of your very own "AKBaby."
Via Andriasang