Updated trailer streaming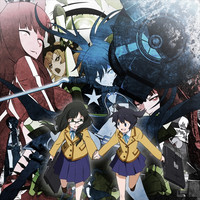 The Black Rock Shooter on TV trailer that was revealed last week has been updated to reveal the key staff for the 8 episode series that will air during the noitaminA block in January.
The announced staff is as follows:
Director - Shinobu Yoshioka
CG battle director - Hiroyuki Imiashi
Story (and Series Composition) - Mari Okada
Chief Animation Director and Character Designer - Yusuke Yoshigaki
Animation Production - Ordet and Sanzigen
If some of these names look familiar from other studios, Studio Ordet is the studio formed by former Kyoto Animation animators while Sanzigen is the studio formed by former Gonzo animators. The new version of the trailer is streaming on the official website.
via Hachima Kikou
Image ©BRSonTV
Update: Correction: Trigger is ex-Gainax, Sanzigen is ex-Gonzo.