Buy Stuff, Get Prizes...But Only In Japan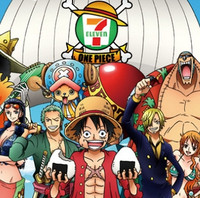 If ever you needed more proof of how widespread anime culture really is in Japan, one need look no further than a series of anime tie-up promotions going on right now. To wit: you can't even go to the corner store for a rice ball without encountering a host of One Piece, Squid Girl, or K-On! themed goods and campaigns!
When you spend more than 400 yen ($5.13) at 7-11 on food like onigiri -- such as the ones Luffy is eating above -- bento, sushi, or One Piece merchandise, you can save up points on your receipt. 7-11 will be giving 4,100 people prizes including (but no limited to...) a jigsaw puzzle, a big Chopper stuffed plushie, Luffy and Chopper figurines, and even One Piece anime DVDs.
And starting 11/4, 7-11 will also be offering One Piece keitai straps that come with the purchase of specific bottled drinks like the ones above. Visit the 7-11 x One Piece campaign homepage for all the details and prizes (there's a lot of them)!
Meanwhile, over at Ministop stores, the invader from the sea, Squid Girl, is spearheading a campaign that will be playing out on Twitter. To enter, you have to follow ministop_fan on Twitter, tweet the the campaign hashtag and link, plus something about a ministop product. 3 people will win a complete set of Squid Girl bromide pictures, 4 of which are exclusive to Ministop. And 10 lucky folks will walk away with an assortment of original goods including brand snack foods, Squid Girl papercraft, and even more pictures! Visit the Ministop x Squid Girl campaign homepage for more info.
Finally, over at Lawson stores – home of many anime promo tie-ups in the past – things are heating up in anticipation of this year's K-On! movie. Beginning on 11/22, a wealth of prizes can be yours if you rack up enough points on your Lawson card. More K-On! goods and campagins will be announced shortly, but for now, fans can snap limited edition items that are available when you buy advance movie tickets, such as the incredible K-On! toaster (below)...
Visit the Lawson x K-on! campaign homepage for full details!
Source: vinhnyu on Twitter