One Step Closer to 3D Without the Glasses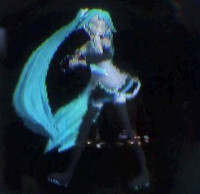 There's no denying it: Hatsune Miku has become a symbol of new technological innovation in Japan. Now, our favorite virtual idol is being used by the University of Tsukuba to demonstrate a new display that creates 3D-like effects without the need for those clunky glasses. Check out this video report by the boffins of DigInfoTV.
While they don't mention it in the clip, this tech could help make a mind-blowing Hatsune Miku: Project DIVA game entirely possible. Let's hope so, anyways...