Events are being done nationwide, so keep your eyes open for plumbers with tails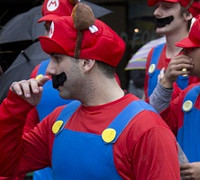 Mario is an icon of gaming and of pop culture, to the point where I saw tons of little Marios and Luigis running around on Halloween, bringing a nerdy tear to all four of my nerdy eyes. Naturally, the upcoming Super Mario 3D Land's release is being celebrated by Nintendo nationwide--check out what happened when the Marios descended upon San Diego!
You might want to keep an eye out and drop by if this is happening in your town, as Nintendo is passing out 3D flyers and a chance to get Tanooki ear-and-tail sets. But what if I'm not a hat person? What do you guys think? Should they have actually done the Mario?
via Save and Quit