What is next from the studio that animated K-on! and Nichijou?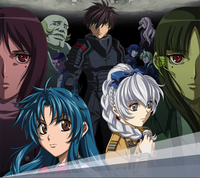 Last week, the Museum of Kyoto held a round-table featuring some of the staff at Kyoto Animation, the animation studio behind K-on! and Nichijou (My Ordinary Life). Attending the event from Kyoto animation was Yasuhiro Takemoto, the director of many projects including Full Metal Panic: The Second Raid; Yoshiji Kigami, director of Munto; and Taiichi Ishidate, key animator and assistant director of Nichijou.
While there are several similar accounts of the following, the below translation is mostly according to @kakurejigen's account of the event which was posted to various blogs. The event was hosted by Kyoto Animation's Senami-san. Here is what they had to say about future projects:
On the topic of the future:
Host: What kind of project would you like to do in the future?
Kigami: A project is in progress which takes place in Kyoto. Also, we are considering whether we could animate one of the Kyoto Animation Award winners...

(Note: To date, not a single title has won the Kyoto Animation Award grand prize.)
During Q&A:
Host: What is the title of the next production for Kyoto animation?
Takemoto: It will be published in an anime magazine that will be on sale soon. The genre keyword begins with "Mi."

(Note: The three genres which begin with "Mi" in Japanese are Mystery, Military, and Musical. It is not clear if both answers refer to the same or two separate projects.)
So... guesses anyone?
If you are having trouble coming up with something, here is what 2ch is thinking:
Mystery: Zaregoto by Nisioisin
Military: Uppote
And since no Kyoto Animation speculation thread is complete without it: Full Metal Panic
Image © 賀東招二・四季童子/Full Metal Panic! Film Partners
Update: Added 3rd genre