Cave's SMT online game gets a handful of Guilty Crown goodies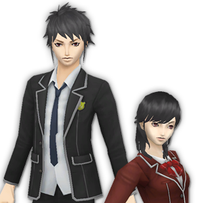 Cave's MMO, Shin Megami Tensei Imagine—which Aeria Games brought to North America and Europe—has launched a crossover project with the ongoing anime Guilty Crown. Now newly created avatars in the online game can sport official Guilty Crown uniforms.
News comes via Presepe, though North American and European players will have to wait and see if Aeria Games announces anything about the special campaign for the international version of the game.
The Guilty Crown TV anime—from Death Note and Highschool of the Dead director Tetsuro Araki—is currently available to stream on both FUNimation and Nico Nico. You can head over to Aeria Games' Megaten site to dig into Shin Megami Tensei Imagine.
Via ANN
©Atlus / ©Cave
© Guilty Crown Committee