Well, He Did Put a Beating on Hugh Grant in "Bridget Jones's Diary"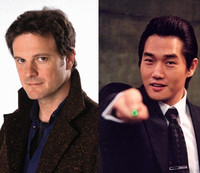 Looks like Jonah Hex and Batman will not be squaring off in the Spike Lee remake of Oldboy. Twitch, who has consistently been on top of developments on the project, is now reporting that, while Christian Bale has long been talked about as the likely candidate for the villain of the psycho-thriller manga adaptation, the role has now been offered to Oscar winner Colin Firth (The King's Speech).
The original Oldboy manga by Garon Tsuchiya and Nobuaki Minegishi, previously adapted into a lauded Korean film by Park Chan-wook, follows a man hunting for the reason why someone locked him in a private prison for a decade.
At one point actor Colin Firth was attached to play a key role in Park Chan-wook's English language debut, Stoker.
Josh Brolin (No Country for Old Men, Jonah Hex) has been confirmed as the antihero of the Spike Lee project.